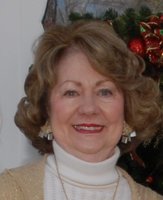 Glenda Griffin Hale
Funeral services for Glenda Griffin Hale, age 78, of Roanoke will be held on Monday, July 31, 2017, at 2:00 PM from the Roanoke First United Methodist Church with Rev. Ralph Barrow and Rev. Chris Martin officiating. Burial will follow at Wedowee City Cemetery with Quattlebaum Funeral Home in charge of arrangements.
The family will receive friends at the church from 1:00-2:00 PM on Monday, July 31, 2017 before services begin.
Mrs. Hale passed away Wednesday, July 26, 2017, at Magnolia Trace Retirement Community in Huntsville, Alabama.
Survivors include her husband, Richard Hale of Huntsville; one daughter, Susan Grunwald (husband, Mark) of Huntsville; two sons, Rick Hale of Huntsville and Michael Hale (wife, Kristy) of St. Louis, MO; and three grandchildren, Megan Grunwald, Miriam Hale, and Kristin Grunwald.
Pallbearers will be Mark Grunwald, Rick Hale, Michael Hale, Tommy Holmes, James Fincher, and Harold Harmon.
A Roanoke native, Mrs. Hale was born on June 10, 1939, the daughter of Houston Lamar Griffin, III, and Nancy Swann Griffin. She graduated from Handley High School in Roanoke, Alabama in 1957. Mrs. Hale attended Auburn University and graduated with a B.S. in Education in 1961. She married Richard Hale on July 22, 1961. While living in Roanoke, she was active in her church, Roanoke First United Methodist Church. She was instrumental in starting the only animal shelter in Randolph County. Mrs. Hale served on the board of the Bank of Wedowee that was founded by her grandfather. Mrs. Hale was preceded in death by her parents and one brother.
Memorials may be floral or donations may be made to the Roanoke First United Methodist Church, P.O. Box 40, Roanoke, AL 36274 or to the Randolph County Animal Shelter, 104 Animal Shelter Road, Wedowee, AL 36278.