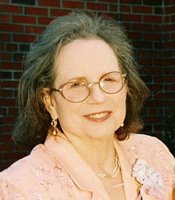 Linda Knight Benson
Linda Knight Benson, age 75, of Alabaster, Alabama passed away on Thursday, November 30, 2017. She was born to the late Ernest Clyde Knight and Evelyn Beatrice Philpott Knight on March 26, 1942 in Roanoke, Alabama.
Linda attended Knight-Enloe Grammar School and Handley High School in Roanoke before attending Jacksonville State University. She graduated with a BA in Secondary English Education. Along with being a loving mother and grandmother, she was also an admired American Literature teacher, teaching most of her career at Auburn High School. While teaching she went back to school at Auburn University to earn her Master's in Education and Education Specialist degrees. She taught in Alabama for 25 years, along with teaching night classes at Southern Union Junior College. After retiring from Alabama, she moved to Columbus, Georgia where she taught for an additional 10 years before having to retire for health reasons. She was working on her Ph.D. when she was forced to retire. In Auburn and Columbus, she was an active member in the Pilot Club. After serving as several officers at the local level, she went on to serve as Alabama Pilot Club Lieutenant Governor in 1984-85 and Governor 1985-86. But, her true love was teaching American Literature with favorite authors, such as Robert Frost, William Faulkner, and Harper Lee. In 1987, she had an article published in The English Journal; How to Pluck an Alabatross: The Research Paper without Tears.
Linda is preceded in death by her parents, Ernest Clyde and Evelyn Philpott Knight; her aunt, Charline White Woodsmall; and a nephew, William Clyde Head. She is survived by her sister, LaRue K. Head (Bill); two daughters, Dana Benson Chernutan (Mark) of Pageland, S.C. and Hilary Eve Benson Whitson (Mike) of Montevallo, AL; four grandchildren, Daniel and Jacob Whitson of Montevallo, AL and Olivia and Chloe Chernutan of Pageland, S.C.; and two nephews, Richard Head (Ginger) of Roanoke, AL and David Head of Talladega, AL. She also leaves behind numerous loving relatives and friends.
The family wishes to thank all of those who cared for her during her stay at Shelby Ridge Nursing Home and New Beacon Hospice in Alabaster, AL. Funeral arrangements will be provided by Quattlebaum Funeral Home, 319 College Street, Roanoke, AL 36274. Graveside services will be held on Sunday, December 3, 2017, at 2:00 PM from Cedarwood Cemetery with Rev. Kenneth Johnson officiating. The family will receive friends at the funeral home from 12:00-2:00 PM on Sunday.
Memorials may be floral or the family requests contributions to New Beacon Hospice, 122 7th Ave NE, Alabaster, AL 35007.