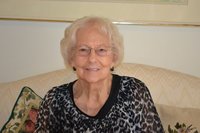 Ucal B. Huey
Funeral services for Ucal B. Huey, age 90, of Roanoke, will be held on Wednesday, December 6, 2017, at 2:00 PM from Quattlebaum Funeral Chapel with Tim Callaway officiating. Burial will follow at Randolph Memory Gardens.
The family will receive friends at the funeral home from 5:00-7:00 PM on Tuesday, December 5, 2017.
Mrs. Huey passed away on Sunday, December 3, 2017, at Hospice LaGrange.
Survivors include two daughters, Susan Wales (husband, Ken) of Beverly Hills, CA and Vickie Foard of Suwanee, GA; one son, Joe Huey of Roanoke, AL; five grandchildren, Kimberly Morrissey, Megan Brown, Keith Strickland, Maibyn and Tanner Huey and their mother, Denise Wilson; five great-grandchildren, Hailey Blu, Kyndall Taylor, Mia Taylor, Kyle Morrissey, and Ryan Morrissey; two sisters, Melba Crossett of Memphis, TN and Joy Allen of Roanoke, AL; and a host of nieces and nephews.
Pallbearers will be Joe Huey, Keith Strickland, Tanner Huey, Jimmy Allen, Jerry Mitchum, Smokey Cole, and Charles Huey.
A native of Randolph County, Mrs. Huey was born on July 6, 1927, the daughter of George Ripley and Minnie Mae Baird Benefield. Mrs. Huey and her husband moved to Stockbridge, GA in 1966 and then to Jonesboro, GA in 1978, before returning back to Randolph County in 1990. She was a member of First Baptist Church Roanoke and had worked for Commercial Bank in Roanoke, AL and First State Bank in Stockbridge, GA as a bank teller. She was preceded in death by her parents; her husband, Arthur Joseph Huey, Jr.; two brothers, Olin Benefield and Milard Benefield; and one sister, Jeanette Mitchum.