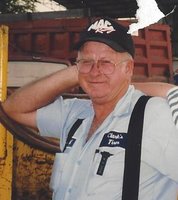 James David Clark
Funeral services for James David Clark, age 75, of Roanoke, will be held on Wednesday, December 6, 2017, at 11:00 AM from Quattlebaum Funeral Chapel with Rev. Tommy Burks officiating. Burial will follow at Randolph Memory Gardens.
The family will receive friends at the funeral home from 5:00 – 8:00 PM on Tuesday, December 5, 2017.
Mr. Clark passed away on Monday, December 4, 2017 at his residence.
Survivors include his wife, Joyce Oleta Clark; one son, Bengi Clark of Roanoke; one step-son, Bobby Boyd of Roanoke; four grandchildren; and ten great-grandchildren.
Pallbearers will be Ralph Richardson, Keith Richardson, Joe Frank Richardson, Alan McDaniel, and Johnny Tatum.
A Wadley native, Mr. Clark was born on July 8, 1942, the son of Hermon and Eunice Elliott Clark. He worked as a self-employed truck driver and for Truck Tire Service out of Steele, AL. He was preceded in death by his parents; and two sisters, Ressa Carden and Resa McDaniel.