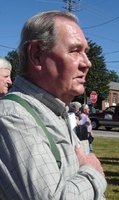 Roy "Tom" Nappier
Funeral services for Roy "Tom" Nappier, age 83, of Roanoke, will be held on Wednesday, January 3, 2018, at 1:00 PM at Quattlebaum Funeral Chapel with Rev. Wally Rezendez and Rev. Scott Whaley officiating. Burial will follow at White's Chapel Methodist Church Cemetery.
The family will receive friends at the funeral home from 5:00-7:30 PM on Tuesday, January 2, 2018.
Mr. Nappier passed away on Saturday, December 30, 2017, at his home.
Survivors include his loving wife, Ann Edmondson Nappier of Roanoke, AL; three daughters, Clarissa Nappier of Roanoke, AL, Sabrina Schroeder (husband, Pete) of Boise, ID, and Sharon McNatt (husband, Fred) of Ashland, AL; two sons, Tony Amason (wife, Glenda) of Lineville, AL and Jonathon Amason (wife, Sharon) of Roanoke, AL; eight grandchildren, Kendall White, Madison White, Gavin McNatt, Morgan McNatt, Rose Schroeder, Riley Schroeder, Alli Amason, and Megan Amason; two great-grandchildren, Kendalynn White and Kennedy White; two sisters, Joann Ordiway (husband, Jim) of Senoia, GA and Christine Jackson of LaGrange, GA; and one brother, Bobby Fowler of Texas.
Pallbearers will be Jonathon Amason, Tony Amason, Fred McNatt, Gavin McNatt, Pete Schroeder, and Randy Nappier.
Kendall White will serve as an honorary pallbearer.
A Troup County, GA native, Mr. Nappier was born on January 16, 1934, the son of Grady Lemuel Nappier and Edna Powers Nappier Fowler. He was a member of White's Chapel Methodist Church and was the owner of Ann's Flowers in Roanoke for many years. Mr. Nappier also worked for the United States Postal Service as a postman and was a veteran of the United States Navy, serving in the Korean Conflict. He was preceded in death by his parents; his first wife, Carolyn Weathers Nappier; and two brothers, Merlyn Nappier and William D. Nappier.
Memorials may be floral or the family requests contributions to Compassus Hospice, 4455 U.S. Highway 431, Roanoke, AL 36274.