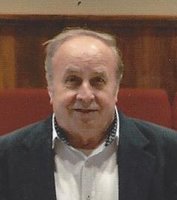 Norman Wade
Graveside services for Norman Wade, age 70, of Roanoke, will be held on Sunday, December 31, 2017, at 3:00 PM from Randolph Memory Gardens with Rev. David Glass officiating. Quattlebaum Funeral Home in charge of arrangements.
The family will receive friends at the funeral home from 12:00-2:45 PM on Sunday.
Mr. Wade passed away on Saturday, December 30, 2017, at his home.
Survivors include his wife, Sandra Wade of Roanoke, AL; two daughters, Lori W. Nelson of Roanoke, AL and Laine Mitchell (husband, Gerald) of Woodland, AL; one step-son, David Leon Collier (wife, Vicky) of Lanett, AL; five grandchildren, Cody McClurg, Hunter Nelson, Russ Nelson, Erin Mitchell, and Madison Mitchell; one sister, Brenda Brown of Rock Mills, AL; and his puppy dog, Bear.
Pallbearers will be Cody McClurg, Hunter Nelson, Russ Nelson, Terry Wade, Scott Wade, and David Bradley.
A lifelong resident of Randolph County, Mr. Wade was born on August 30, 1947, the son of Leroy and Mary Fulghum Wade. He attended Grace and Mercy Baptist Church and had worked as a meat cutter at Piggly Wiggly. He was preceded in death by his parents; and three brothers, Larry Wade, Haywood Wade, and Jerry Wade.