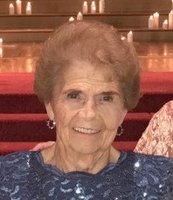 Ruth Carpenter Childress
Funeral services for Ruth Carpenter Childress, age 88, of Roanoke, will be held Sunday, February 11, 2018, at 2:30 pm at First Baptist Church of Roanoke with Rev. Scott Hannah and Rev. Larry Armstrong officiating. Burial will follow at Randolph Memory Gardens.
The family will receive friends at Quattlebaum Funeral Home from 5:00 to 7:00 pm on Saturday, February 10th. Mrs. Childress will lie in state at the church for one hour prior to services on Sunday.
Mrs. Childress passed away Friday, February 9, 2018, at her home.
Survivors include two daughters, Karene C. Henson of Roanoke and Donna C. (Ron) McCullough of Wetumpka; two sons, Dr. George (Mary Lynn) Childress of LaGrange, GA and Scott (Anne) Childress of Peachtree City, GA; eight grandchildren, Wesley (Patty) Henson, Dr. Whitman (Christie) Welch, Allison (Bo) Bradford, Drake Childress, Carson Childress, Caroline Childress, Madeleine Childress and Parker Childress; three step-grandchildren, Ron (Kim) McCullough, Rebekah (James) Quakenbush, Rachel (Jeff) Perry; seventeen great-grandchildren; two sisters, Sue Andress of Brewton and Joyce Davis of Wedowee; one brother, Sam (Mary) Carpenter, Jr. of Wedowee; and a large number of nieces and nephews.
Pallbearers will be Wesley Henson, Whitman Welch, Drake Childress, Parker Childress, Rory Childress and Richard Stroud. Honorary pallbearers will be Carson Childress, members of the Women's Sunday School Class at First Baptist Church of Roanoke, and the WMU Leadership Team (Randolph Association).
A Randolph County native, Mrs. Childress was born January 25, 1930, the daughter of Samuel W. and Effie Washington Carpenter. She was a graduate of Randolph County High School and Auburn University (API). She had been employed as a home economics teacher and as a dietician with Lee County Hospital and Randolph County Medical Center. She had been co-owner of Ten Toes Shoe Center and the manager at Williamsburg Manor Assisted Living. She was a member of First Baptist Church of Roanoke, the Pilot Club, Roanoke Literary Club, the Women's Missionary Union, NAMI, Magnolia Garden Club, and served on a Lighthouse soup kitchen team. Mrs. Childress loved Christ, her family, helping others, and service to her church and community. She was preceded in death by her parents; husband, Parker Childress; son-in-law, Philip Henson; sisters, Mildred Hester, Louise Carpenter, Ione Herren, Mozelle Carpenter, Ermis Wingard and Sara Turner.
The family suggests contributions to First Baptist Church of Roanoke (827 Main Street, Roanoke, AL 36274) or the Alabama WMU Foundation (100 Missionary Ridge, Birmingham, AL 35242), but flowers will be accepted, as Mrs. Childress loved gardening.