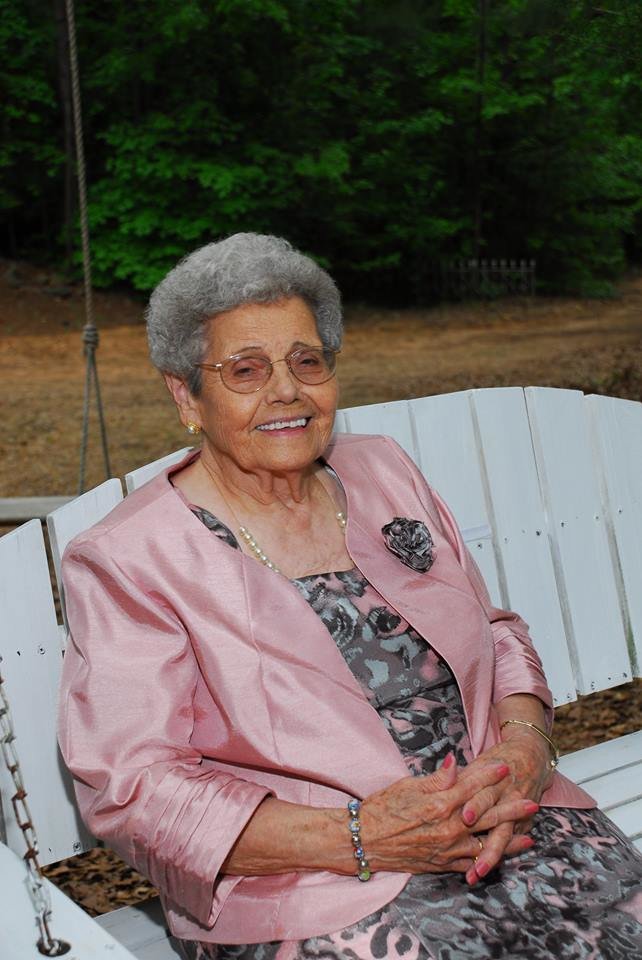 Obituary of Velma Albright Nolan
Funeral services for Velma Knight Albright Nolan, age 91, of Wadley, will be held on Friday, June 16, 2017, at 11:00 AM from Corinth Christian Church with Rev. Ricky Cummings, Rev. Johnny Bishop, and Rev. Tim Taylor officiating. Burial will follow at Corinth Christian Church Cemetery with Quattlebaum Funeral Home in charge of arrangements.
The family will receive friends at the funeral home from 5:00-8:00 PM on Thursday, June 15, 2017.
Mrs. Nolan passed away on Wednesday, June 14, 2017 at her residence.
Survivors include: her husband, Charles Nolan; two daughters, Judy Kay Albright Thompson (Derryl) of Hackneyville, AL and Shirley Ann Albright Bunn of Wedowee, AL; daughter-in-law, Gaynelle Albright of Alex City, AL; four sons, Ronald Jackson Albright (Cindy) of Goodwater, AL, Bruce Wayne Albright (Tara) of Wadley, AL, Roger Allen Albright (Cheryl) of Wadley, AL, and George David Albright (Nancy) of Alex City, AL; eighteen grandchildren; 31 great-grandchildren; and three great-great-grandchildren; one sister, Elsie Knight Perry of Roanoke; five brothers, Ezra "Buddy" Knight of Alex City, AL, Clifford Knight of Roanoke, AL, Billy Knight (Mary) of Wadley, AL, Franklin Knight of Roanoke, AL, and Manley Knight (Judy) of Cragford, AL; and numerous nieces, nephews, and cousins.
Pallbearers will be Mike Bunn, Raymond Albright, Colby Albright, Chris Albright, Jimmy Albright, and Walt Albright.
A Roanoke native, Mrs. Nolan was born on May 10, 1926, the daughter of Dowell Harlin Knight and Eva Bernice Hester Knight. Mrs. Nolan lived most of her life in Wadley (Corinth South) Alabama. On September 25, 1943, she married her late husband, George Leabern Albright. Mrs. Nolan married Charles Nolan on January 20, 1974. She was a member of Corinth Christian Church and former member of Beulah Christian Church in Wadley, AL. Mrs. Nolan worked for Handley Mills, Clegg Manufacturing, and Playtex Corporation. Velma, and her husband, Charles, owned and operated Wadley Cafe for many years. She loved and enjoyed her family and friends. Her hobbies included quilting and taking care of her flowers. She will be greatly missed by her family and all who knew her. She was preceded in death by her parents; her first husband, George Leabern Albright; son, Jimmy Lamar Albright; son-in-law, Arthur Bunn; sister, Denia Knight Screws; brothers, Emory Knight, R.L. Knight, and Tony Knight; sisters-in-law, Clemen Knight, Sara Knight, and Waydene Knight Taylor; brother-in-law, Claude Lee Screws; nephews, Randy Knight and Andy Knight.
Flowers will be accepted or the family requests donations be made to Corinth Christian Church Cemetery Fund c/o Donnie Perry (234 Bartlett Avenue, Roanoke, AL 36274) or Forrester's Chapel Cemetery Fund c/o Tommy Carson (412 County Road 826, Wadley, AL 36276).