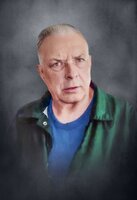 Nathan "Froggy" Burks
Funeral services for Nathan "Froggy" Burks, age 78, of Rock Mills, will be held on Wednesday, October 13, 2021, at 3:00 PM at Quattlebaum Funeral Chapel with Sister Carolyn Hanner officiating. Burial will follow at Rock Mills Cemetery.
The family will receive friends at the funeral home from 5:00-8:00 PM on Tuesday, October 12, 2021.
Mr. Burks passed away on Sunday, October 10, 2021, at his home.
Survivors include: six children, Jimmy Burks (Mae Dean) of Roanoke, Becky Burks of Roanoke, Timmy Burks of Rock Mills, Beth Kirby (Russell) of Roanoke, Tony Burks (Christy) of Roanoke, and Tina Burks of Rock Mills; eight grandchildren, Katie Richardson, Kenley Pike, Chad Mitchum, Brandi DuFrene, Joshua Burks, Victoria Traylor, Joby Traylor, and Macenzie Burks; ten great-grandchildren, Haley, Lacey, Christopher, Cami, Carlie, Destiny, Aubree, Jlyn, Jacob, and Denny; one sister, Betty Ann Pike of Rock Mills; and one brother, Steve Burks of Rock Mills.
Pallbearers will be Danny Smith, Jerome Fincher, Matt Mitchell, Marty Ivey, Jacky Burks, and Keith Pike.
A Roanoke native, Mr. Burks was born on May 4, 1943, the son of Hoyt Hobson and Mattie Louise Sheppard Burks. He was a member of Rock Mills First Baptist Church and worked as a mechanic at Wehadkee Mills for 37 years. Mr. Burks was preceded in death by his parents; his wife, Janice Burks; son, Jerry Lee Burks; granddaughter, Chasity Burks; brother, Howard Hopson Burks; sisters, Peggy Smith and Gennell Rainwater.