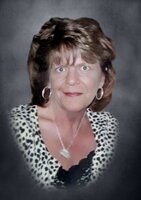 Jackie Messer Cottle
Jackie Messer Cottle, age 64, of Wadley went to be with the Lord on Sunday, October 24, 2021, at East Alabama Medical Center in Opelika, Alabama. Services will be held on Wednesday, October 27, 2021, at 11:00 AM at Quattlebaum Funeral Chapel with Bro. Paul Howard and Bro. Randy McGill officiating. Private burial will follow at Antioch Christian Church Cemetery in Chambers County.
The family will receive friends at the funeral home from 10:00-11:00 AM on Wednesday before services begin.
Survivors include her husband, Gregg Cottle of Wadley; four sons, Cody Cottle (Kristal) of Roanoke, Corey Cottle (Brittany) of Auburn, Brian Cottle (Flora) of Opelika, and Calon Cottle of Wadley; grandchildren, Brileigh, Laiklynn, Oaklynn, Reynaldo, Joshua, and Pedro; two sisters, Brenda Messer Beasley and Rhonda Messer Rogers (Dean), both of Fairhope, AL; a brother-in-law, Benny Camp of Fairhope, AL; and special friends, Linda Brown of Lafayette, Lee Ann Key of Wadley and Kim Huey of Wedowee.
Pallbearers will be Daryl McManus, Allen Ramsey, Martin Spivey, Keith Marable, Neil Smith, and Blake Coker.
A Randolph County native, Mrs. Cottle was born on October 3, 1957, the daughter of Willie Jack and Arzelia Brown Messer. She was a member of Abanda Baptist Church and worked with McClendon Trucking and the Randolph County Court Referral Program. Jackie lived her life for her family. She made sure they always knew they were fiercely loved by her and Jesus. Jackie was a faithful friend and spent her life serving, giving and loving others. She was preceded in death by her parents and a sister, Hilda Camp.
Donations may be made in memory of Jackie to the Wadley High School Athletic Department. Online condolences may be expressed at www.quattlebaumfuneralhome.com.