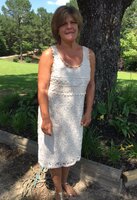 Melissa Taylor McCurry
Melissa Taylor McCurry, age 60, of Roanoke passed away Sunday, January 9, 2022, at her home.
Private funeral services will be held. A public visitation for friends will be held on Tuesday, January 11, 2022, at Quattlebaum Funeral Home from 4:00-7:00 PM.
Due to the ongoing pandemic, anyone attending the visitation is asked to practice social distancing and consider wearing a mask.
Survivors include her husband, David McCurry of Roanoke; step-daughter, Jessica Kennedy of Mountain Home, AR; step-daughter-in-law, Kristin McCurry of Newnan; step-sons, Robert McCurry, Jr. (Teri) of Charleston, SC, and Jared McCurry (Katie) of Senoia, GA; son-in-law, Tracy Schroeder of Senoia, GA; 11 step-grandchildren, Haddon Schroeder, Meagan Schroeder, Caleb Schroeder, Jacob McCurry, Lexi McCurry, Micah McCurry, Emma McCurry, Gracie McCurry, Gavin McCurry, and Paisley McCurry, Carrie Kennedy, Kayla Kennedy, and Kiersten Kennedy; and one step-great-grandchild, Aria McCurry.
Honorary pallbearers will be Chad Nixon, Scott Nixon, Phillip Nixon, and Chris Nixon.
A Chambers County native, Mrs. McCurry was born on October 17, 1961, the daughter of Elmer Grant and Mary Lynn Calhoun Taylor. She was a member of Hope Memorial Christian Church. Mrs. McCurry was preceded in death by her parents; one brother, Michael Grant Taylor; a step-daughter, Natasha Schroeder; and a step-son, Nathaniel McCurry.
Memorials may be floral or donations may be made to Hope Memorial Christian Church.