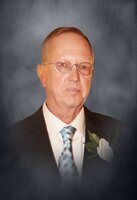 James "Mack" Cooper
Funeral services for James "Mack" Cooper, 67, of Wadley will be held on Friday, March 4, 2022, at 1:00 PM at Quattlebaum Funeral Chapel with Bro. Scott Whaley officiating. Burial will follow at the family cemetery at 261 County Road 489, Woodland, AL 36280.
The family will receive friends at the funeral home from 5:00-8:00 PM on Thursday, March 3, 2022.
Mr. Cooper passed away on Sunday, February 27, 2022, at his residence.
Survivors include his wife of 43 years, Sheila Cooper; one son, Sidney Cooper (Amanda) of Woodland; one sister, Robin George (Jeff) of Keysville, FL; niece & nephew, Kyle George and Brandy Trlak; and great nieces, Olivia Trlak and Kinsley Trlak.
Pallbearers will be Kyle George, Sidney Cooper, Dan Trlak, Ralph Covington, Randy Lamb, and Jason Covington.
A Tampa, Florida native, Mr. Cooper was born on January 21, 1954, the son of Sidney Harrison and Betty Bridges Cooper. He was a member of Alafia Baptist Church and was retired from the Tampa Electric Company. Mr. Cooper enjoyed hunting, fishing, farming, and his goats. He was preceded in death by his parents.