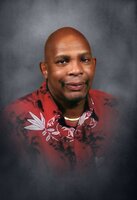 Calvin J. Hatcher
"Sadly missed along life's way, But LOVINGLY remembered every day!..."
Funeral services for Deacon Calvin J. Hatcher, age 63, of Roanoke will be held on Monday, March 14, 2022, at 1:00 PM at Quattlebaum Funeral Chapel with Rev. Calvin J. Trammell officiating.
The family will receive friends at the funeral home from 5:00-6:00 PM on Sunday, March 13, 2022.
Calvin Jerome Hatcher was born on September 3, 1958, to the late Calvin Hatcher and Annie Laura Hatcher. He peacefully departed this life on Wednesday, March 9, 2022, at Columbus Hospice in Columbus, Georgia.
Calvin leaves to cherish his precious memories; his loving devoted wife and caregiver, Jearleane Hatcher; son, Courtney Nunn; daughter, Felicia Phillips; son, Patrick Phillips; one sister preceded in death, Laurie D. Hatcher; siblings remaining, Charles (Sebrina) Hatcher, Janis Hatcher and Katrina Hatcher Thomas; one brother-in-law, Curtis Nunn; grandchildren, Currian Whitlow, Mierra Phillips, Beyonce Phillips, Coby Nunn, Tamarion Phillips, Jonquez Nunn, Hannah Nunn, and Kamillo Kirk; nieces, Shannon Brown, Chastity Newson, Alexis Thomas and Taylor Thomas; nephews, Jeremy Miller, Carl Edmondson, Jr., Quentin Pitts, Joshua Hatcher and Tyler Thomas and a host of relatives and friends.
Calvin confessed Christ at an early age and became a member of the Macedonia Missionary Baptist Church in Roanoke, Alabama, where he remained active and faithful for many years until his health failed. Calvin was known for his mild mannerism and warm smile. He found love in his chosen profession as a mechanic. Calvin attended the historic Randolph Training School (RCTS). Later, he attended and graduated from the Randolph County High School.
Online condolences may be expressed at www.quattlebaumfuneralhome.com.