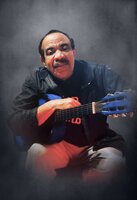 Stanley Rowland
Funeral services for Stanley Rowland, age 66, of Roanoke, will be held at 2:00 pm on Tuesday, July 26, 2022, at Quattlebaum Funeral Chapel with Minister Steve Joiner officiating. Burial will follow at Skyview Memorial Gardens.
The family will receive friends at the funeral home from 11:00 am until 2:00 pm on Tuesday.
Mr. Rowland passed away on Friday, July 22, 2022, at Tanner Medical Center in Carrollton, Georgia.
Survivors include his wife, Jennifer Anderson Rowland of Roanoke; one son, Kelvin Rowland of Roanoke; two daughters, Ariel Rowland of Roanoke and Gwinette Fuller of Atlanta;four sisters, Monica Rowland of Roanoke, Teresia Rowland of Roanoke, Evelyn Rowland of Birmingham and Rhonda Rowland of Roanoke; five brothers, Calvin Rowland (Beverly) of Birmingham, Samuel Rowland (Deborah) of Valdosta, Ga., Thomas Rowland (Linda) of Roanoke, Kenneth Rowland of Roanoke, and Wayne Rowland (Candy) of Roanoke; and a host of nieces and nephews.
Pallbearers will be Kelvin Rowland, Christopher Anderson, Malcolm Rowland, Kentovian Rowland, Patrick Rowland, and Tristan Alexander.
A lifelong Randolph County resident, Mr. Rowland was born August 4, 1955, the son of Calvin Rowland, Sr. and Beatrice Smith Rowland. He attended East Roanoke Church of God and was employed with Mohawk Industries. He was preceded in death by his parents; two brothers, Ernest General Rowland and Charlie Rowland.
The family wishes to express their sincere thanks and appreciation to Dr. Jeffrey Reid.