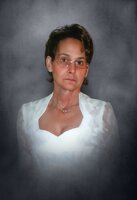 Virginia Lee Smith
Virginia Lee Smith, age 66, of Roanoke passed away Sunday, September 4, 2022, in Roanoke, Alabama.
Survivors include her husband, Nelson Smith of Roanoke; two daughters, Malissa Rigney (Jason) of Ohio and Kristy Owens (David) of Roanoke; six grandchildren; and four siblings, Shirley Pendley Jordan, Phyllis Reynolds (Charles), Carolyn Settle, and David Compher (Carolyn). She is also survived by one ex-husband.
A Virginia native, Mrs. Smith was born on June 13, 1955, the daughter of Charles William and Virginia Swope Compher. She was a hard worker throughout her lifetime. Mrs. Smith was a member of Heritage Baptist Church and accepted Christ as her Savior on August 13, 2012. Jesus saved her soul and gave her a heavenly home. She was preceded in death by her parents; five siblings, Gerald Pendley, Wallace Pendley, George Pendley, Allen Pendley, and Charlie Pendley; and three ex-husbands.
Memorial services will be planned at a future date for family in Winchester, Virginia, and also one for family in Roanoke.
In lieu of flowers, donations may be made to Quattlebaum Funeral Home to go towards final expenses.