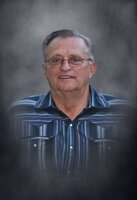 Eddie L Abel
Funeral services for Eddie L Abel, age 76, of Roanoke will be held on Saturday, September 17, 2022, at 11:30 AM CST at Quattlebaum Funeral Chapel with Bro. Stanley Yarbrough officiating. Burial will follow at Bethany Lime Congregational Christian Church Cemetery.
The family will receive friends at the funeral home from 10:00-11:30 AM CST on Saturday before services begin.
Mr. Abel passed away Tuesday, September 13, 2022, at his home with his family by his side.
Survivors include his wife, Brenda Noles Abel of Roanoke; one daughter, Kimberly Britt of Opelika; one son, Edward Abel (Connie) of Franklin, GA; six grandchildren, Russell Clark (Rebekah), Kayla Clark Martin, Reed Britt (Angel), Luke Abel, Levi Abel, and John Abel; three great-grandchildren, Waylon Clark, Waverly Clark, and Paisley Britt; and two brothers, Charlie Abel (Shirley) of Pearland, TX, and Steve Abel of Kerrville, TX.
Pallbearers will be Russell Clark, Reed Britt, Chase Abel, Levi Abel, Luke Abel, and John Abel. Honorary pallbearers will be Ken Henson and Charles Enloe.
A Channelview, Texas native, Mr. Abel was born on February 17, 1946, the son of Edward L and Lorene Enloe Abel. He married the love of his life, Brenda, on May 6, 1966. They resided in Romayor, Texas, and later moved their family to Roanoke, Alabama. Mr. Abel worked for 10 years at the Randolph County Hospital in maintenance. He also worked at Commercial Refrigeration where he worked side by side for 12 years with his son. He loved the outdoors, hunting, fishing, and barbecuing with his family. Mr. Abel was a member of Bethany Lime Congregational Christian Church and enjoyed fellowship with his church family, especially the annual Bethany Lime BBQ fundraiser. He was preceded in death by his parents and a brother, Larry Abel.
Memorials may be floral or donations may be made to Bethany Lime Congregational Christian Church in memory of Mr. Abel.