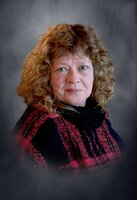 Teresa C.J. Armstrong
Graveside services for Teresa C.J. Armstrong, age 54, of Wadley, AL, will be Monday, November 7, 2022 at 11:00 AM at Randolph Memory Gardens with The Rev. Danny Lewis officiating.
The family will receive friends at the funeral home on Monday, November 7, 2022, from 10:00-10:45 AM.
Mrs. Armstrong passed away on Friday, November 4, 2022, at her residence.
Survivors include her husband, Robert Armstrong of Wadley; daughters, Tiffaney Anne Johnson of Roanoke, AL., Jacke (Matthew) Cummings of Roanoke, AL., Rae Johnson of Wadley, AL., and Cher Johnson (Charlie Serafico) of Wadley, AL.; stepchildren, Jeanette Vinson, Aida Jolene Scott, and William Joel Armstrong; grandchildren, Trent Johnson, Timothy Holliday, Tatiana Holliday, Jayla Holliday, Zeke Holliday, Kennidy Rushton, Taylor Cummings, Addisyn Cummings, Annsley Cummings, Faith Johnson, Noah Johnson, Laylah Johnson, Charlie Ann Johnson, Meka Serafico, Lola Serafico, with Alana Serafico on the way; sisters, Allison Sackett of Tallahassee, FL. And Mary Lewis of St. Petersburg, FL.; brothers, Walt Carden of Roanoke, AL., and Sloan Carden of Texas.
Pallbearers will be Matthew Cummings, Timothy Holliday, Trenton Johnson, Walter Carden, Reid Carden, and Don Hester. Honorary pallbearers will be Zeke Holliday, Noah Johnson, and Meka Serafico.
Mrs. Armstrong was born in Opelika, AL. on October 13, 1968. She is the daughter of Frank and Peggy Botsford Carden. Mrs. Armstrong worked for Western Express & Swift as a truck driver. She is preceded in death by her parents; brother, Jess Carden; and grandson, Brandon Rushton.
Memorials may be floral or the family request donations be made to Quattlebaum Funeral Home to help with expenses. Online condolences may be expressed at www.quattlebaumfuneralhome.com