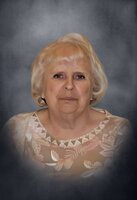 Mary Ann Head Nobbley
Ms. Mary Ann Head Nobbley died peacefully on the 28th of December surrounded by family at Traylor's Nursing Home. She was 86 years old at the time of her passing.
Visitation will be held at Quattlebaum Funeral Home on Friday, December 30, 2022 from 9:30 AM – 10:45 AM. Graveside services will be held at Randolph Memory Gardens at 11:00 AM Friday with Bro. Scott Whaley officiating.
Pallbearers will be her grandsons, Scott Whaley, Eric Robertson, Clay Tinney, Benji Robertson, Neil Johnson, Jim Robertson, Slay Whaley, Abe Tinney, Riley Johnson, Eli Tinney, and James Robertson.
She is survived by her daughter Rhonda (Barry) Harlin, her son Scott (Dana) Robertson, her brother Roger (Faye) Head, her grandchildren Eric (Heather) Robertson, Stephanie (Scott) Whaley, Melanie (Clay) Tinney, Benji Robertson, Jim (Marilyn) Robertson, Summer (Neil) Johnson, eleven great-grand children, six step-children, their families, and many other friends and family who will greatly miss her.
She is preceded in death by her parents, Tymon and Lucille Head, her sister, Janice Nobbley, son Randall Robertson, and husbands Harold Robertson, Paul Cofield, and Bill Nobbley.
Ann was a dedicated mother first and foremost. She treasured her children and embraced every moment with them. She possessed a servant's heart and was most often found sneaking to wash dishes for whomever she visited. Ann especially loved her role as "Mamaw" and the memories of her waving goodbye to all from the end of her driveway will be treasured always.
Ann had a humble personality and loved to laugh. She made friends everywhere she went. She especially loved her church, Rock Mills Methodist, and her daily lunch trips to visit with friends at Gedney's where Melissa treated her like family.
A special thanks is given to all those who cared for her at Traylor's Nursing Home the last few years of her life. The constant love and devotion given there will never be forgotten.