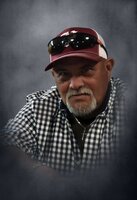 Jeffery Wayne Estes
Jeff Estes, age 56, of Roanoke, AL, passed away on Sunday, January 1, 2023, at his home.
The family will receive friends at the funeral home from 5:00 – 8:00 PM on Wednesday, January 4, 2023.
Survivors include his wife of 15 years, Kathy Harmon Estes; daughter, Jenny Hickingbottom (Kelly) of Tuscaloosa, Ala.; son, Brandon Wayne Estes of Lanett, Ala.; step-son, Brandon Thornton (Summer) of Roanoke, Ala.; 6 grandchildren; sister, Kim Estes of Lanett, Ala.; and brother, David Estes of Lanett, Ala.
Mr. Estes was born in Nashville, Tennessee, on March 8, 1966, the son of Terry Wayne Estes and Gayle Stafford Estes. Mr. Estes worked as a delivery driver for Russell Do It Center for the past 10 years, loved Rock and Roll music, and was an avid Alabama football fan. He is preceded in death by his parents.
Memorials may be floral, or donations may be made to Quattlebaum Funeral Home to help with final expenses. Online condolences may be expressed at www.quattlebaumfuneralhome.com