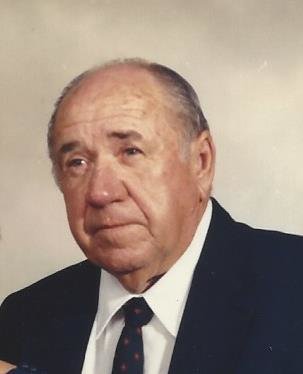 Obituary of Buster Robinson
Funeral services for Buster "Buck" Robinson, age 90, of Roanoke will be held on Tuesday, August 7, 2018, at 11:00 AM at Quattlebaum Funeral Chapel with Bro. Steve Williams and Mike Fisher officiating. Burial will follow at Randolph Memory Gardens.
The family will receive friends at the funeral home from 5:00-8:00 PM on Monday, August 6, 2018.
Mr. Robinson passed away Sunday, August 5, 2018, at Wellstar West Ga Medical Center in LaGrange, Georgia.
Survivors include: one son, Rick Robinson (wife, Carla) of Roanoke; two grandchildren, Brian Robinson (wife, Ashley) of Roanoke and Tiffani Taylor of Wadley; three great-grandchildren, Peyton Elizabeth Taylor, Brantley Robinson, and Raelyn Robinson; and one sister, Sue Parmer of Roanoke.
Pallbearers will be Jody Ward, Jimbo Robinson, Mike Parmer, David Harmon, Darrell Harmon, and Adam Melton.
A Roanoke native, MR. Robinson was born on January 5, 1928, the son of Coy Jefferson and Beulah Mae Browning Robinson. He was a member of the Roanoke Church of the Nazarene and worked at Handley Mills and retired from Amoco Fabrics and Fibers. Mr. Robinson was a member of Masonic Lodge #132 and was a member of the Roanoke City Council. He was preceded in death by his parents; his wife, Doris Marie Robinson; son, Bobby Robinson; two brothers, Coy "Junior" Robinson; Chess Robinson; and two sisters, Pauline Mitchum and Betty Whaley.