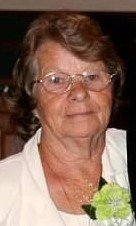 Obituary of Delorise Alice Wyatt
Funeral services for Delorise Alice Wyatt, age77, of Roanoke, AL, will be held on Sunday, October 21, 2018, at 5:00 PM from Quattlebaum Funeral Chapel with Matthew Hargett officiating.
The family will receive friends at the funeral home from 4:00-5:00 PM on Sunday, October 21, 2018.
Mrs. Wyatt passed away on October 19, 2018, at her home.
She is survived by two daughters, Deloris Annett Hinkfuss of Wisconsin, Bessie Jan Marshall of Wisconsin; four sons, James Hargett of Roanoke, Keith Hargett of Roanoke, John Hargett of Woodland, Scotty Hargett of Roanoke; one brother, Norman Stephenson of Wisconsin; 10 grandchildren and 9 great-grandchildren.
A Randolph County resident, Mrs. Wyatt was born on December 27, 1940, the daughter of Ralph Stephenson and Bessie Jane Sutton Stephenson. She had worked as a weaver at Mohawk. She was preceded in death by her parents, two husbands, Vester Hargett, Matthew Wyatt; one son Ralph Hargett; one sister Delora Lou Weerde; one brother, Bill Stephenson.
Online condolences may be expressed at www.quattlebaumfuneralhome.com.