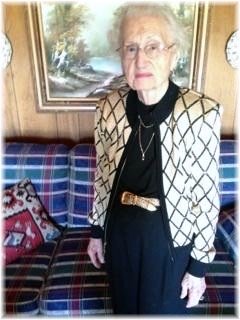 Obituary of Mildred Bailey Bonner
OBITUARY

Graveside services for Mildred Bailey Bonner, age 97, of Roanoke will be held on Monday, October 12, 2020, at 11:00 AM at Randolph Memory Gardens with Ray Weaver officiating with Quattlebaum Funeral Home in charge of arrangements.
Mrs. Bonner passed away October 9, 2020, at Lake Martin Community Hospital in Dadeville.
Survivors include her brother, John Benford Bailey of Columbus, Georgia; son-in-law
G. Sanders Dupree of Atlanta, Georgia; nephews Warner C. Bailey of Roanoke, John G. Bailey of Hattiesburg, Mississippi; and nieces Karen Bailey Versola of Atlanta, Georgia and Megan Bailey Busby of Roanoke.
A Randolph County native, Mrs. Bonner was born on April 4th, 1923, the daughter of John Grover and Viola Mae Bailey. He was Christian by faith and had been a loyal member of Rock Mills United Methodist Church for many years. For many years she worked at Wehadkee Yarn Mills under the leadership of her uncle Oliver "Ol" and her father, the aforementioned resulted in a successful career and a source of good memories. Mildred believed in her community and often recounted the wonderful times she had in Rock Mills. She shared many life lessons she learned over her 97 years; most of which centered around inclusion, her faith in God, strong family ties, and wonderful adventures with her friends. She will be greatly missed but her kind spirit will shine in us forever. Mrs. Bonner was preceded in death by her husband, Robert A. Bonner; her only child, Robert A. Bonner, Jr.; her parents Viola Mae and John Grover Bailey; her brothers, Clyde L. Bailey, Coy D. Bailey ("Buck"), John G. Bailey, Jr.; as well as her sister, Nora Bailey Yarbrough.
In lieu of flowers, the family requests donations be made to Rock Mills Methodist Church.
Online condolences may be expressed at www.quattlebaumfuneralhome.com.
Graveside Services
11:00 am - 11:59 am
Monday, October 12, 2020
Randolph Memory Gardens
64930 Highway 22
Roanoke, Alabama, United States
Burial
12:01 pm - 1:00 pm
Monday, October 12, 2020
Randolph Memory Gardens
64930 Highway 22
Roanoke, Alabama, United States