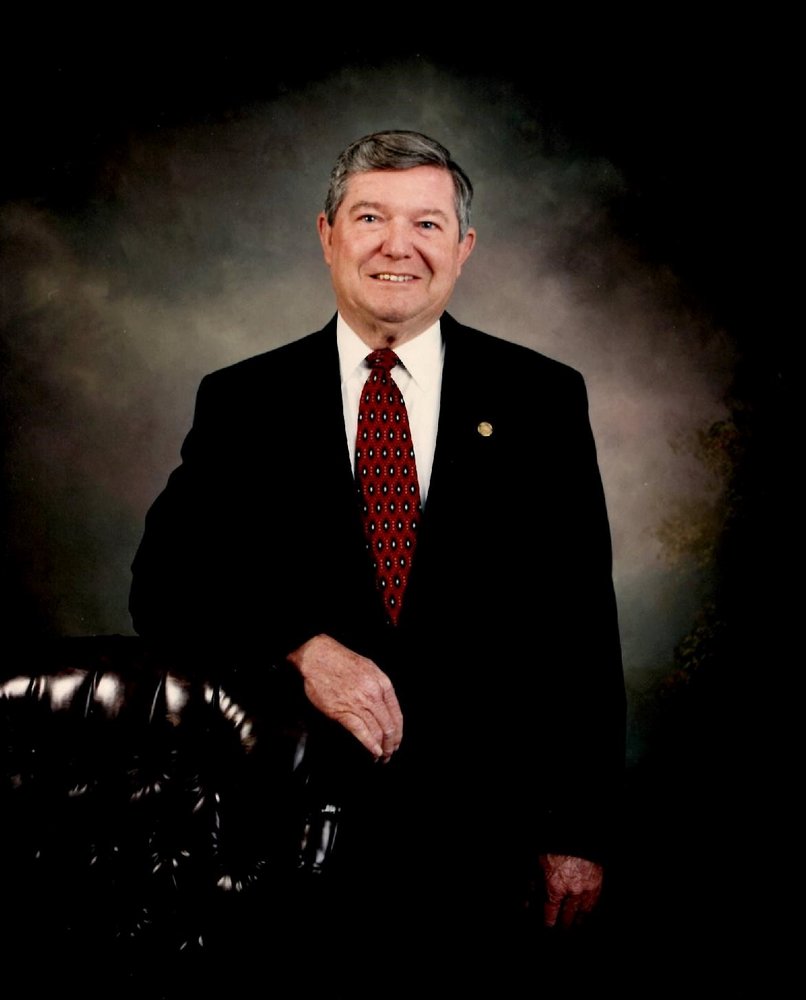 Obituary of Rep. Richard Joel Laird, Sr.
Graveside services for Representative Richard Joel Laird, Sr., age 81, of Roanoke will be held on Thursday, December 17, 2020, at 3:00 PM at Randolph Memory Gardens with Bro. Mark Brand and Gerald Dial officiating and Quattlebaum Funeral Home in charge of arrangements.
Rep. Laird passed away Monday, December 14, 2020, at Tanner Medical Center in Carrollton, GA.
Survivors include his wife of over 62 years, Peggy Richardson Laird of Roanoke; one son, Richard Joel Laird, Jr., (Whitney) of Anniston; two grandchildren, Richard Joel "Rich" Laird, III, (Mackenzie) of Munford and Stokes Laird (Kendra) of Charlotte, NC; two great-grandchildren, Caroline Laird and Charlotte Jane "Charlie" Laird; and one sister, Martha Kelley (Al) of Forest Park, GA.
Pallbearers will be Gary Clark, Dennis Connell, David Cummings, C. W. Perry, Jared Kirby, and Lynn Duncan. Honorary pallbearers will be the men of Handley Avenue Church of God, Dewayne Bridges, Randy Wood, Larry Duncan, Lamar Davis, Roger Bell and Gerald Dial.
A longtime Roanoke resident, Rep. Laird was born in Floyd County, Georgia, on June 4, 1939, the son of Rev. Charles O. and Rosa Lee Burgess Laird. He was a 1958 graduate of Handley High School and was a member of Handley Avenue Church of God where he served as clerk for 48 years and taught Sunday School for even longer. Rep. Laird was a prominent businessman throughout his adult life. He owned and operated Laird's Five and Dime, the Radio Shack in Roanoke, developed Peachtree Apartments, Randolph Plaza Shopping Center and Deer Run Subdivision, and served on the Roanoke City Council from 1972-1976. Rep. Laird served as a board member for the Randolph County Economic Development Authority, First Bank (for 46 years), and the Randolph County ALFA Division. He was most prominently known as a member of the Alabama House of Representatives, where he proudly represented Chambers, Clay and Randolph counties for 36 years, and because of this service, a stretch of Highway 431 between Interstate 20 and Interstate 85 and the Woodland High School Gymnasium are named in his honor. He was a charter member of the Randolph County Camp of Gideon International for over 30 years. In 1978, he was named Co-Man-of-the-Year for Randolph County with Tom Burnside.
Rep. Laird was preceded in death by his parents; one sister, Joyce Haynes; and one brother, Eugene Laird.
Per the family's request, anyone attending the services is asked to wear a mask and social distance.
In lieu of flowers, the family requests donations be made to Handley Avenue Church of God c/o Larry Stewart, 1219 Doublehead Road, Roanoke, AL 36274. Online condolences may be expressed at www.quattlebaumfuneralhome.com.
Graveside Services
3:00 pm
Thursday, December 17, 2020
Randolph Memory Gardens
64930 Highway 22
Roanoke, Alabama, United States
Interment
Randolph Memory Gardens
64930 Highway 22
Roanoke, Alabama, United States